Tags
Andy Kubert, Barbara Gordon, Batman, Blue Beetle, Brad Anderson, Bronze Age Captain Atom, Captain Atom, Carlo Pagulayan, Dick Grayson, Dr. Fate, Eduardo Pansica, Ethan Van Sciver, Green Lantern (Alan Scott), Green Lantern (Guy Gardner), Green Lantern (John Stewart), Jason Paz, Jeff King, Jill Thompson, John Romita Jr., John Starr, Judomaster, Nightshade, Peacemaker, Peter Steigerwald, Scott Hanna, Scott Lobdell, Stephen Segovia, Supergirl, Superman, The Flash, The Question, Tomeu Morey, Tony S. Daniel, Travis Lanham
"Last Stand"
Writers:  Jeff King, Scott Lobdell
Pencils:  Stephen Segovia, Carlo Pagulayan,Eduardo Pansica, Ethan Van Sciver
Inks:  Jason Paz, Scott Hanna, Trevor Scott,Stephen Segovia, Ethan Van Sciver
Colors:  John Starr, Peter Steigerwald
Letters:  Travis Lanham
Cover Artists:  Andy Kubert, Brad Anderson, Tony S. Daniel, Tomeu Morey, Jill Thompson, John Romita, Jr.
Going into Convergence, I said I was going to wait until it was over to review it.  As Captain Atom's role in the actual mini-series was limited, I decided not to.  Besides, as a kid I was always told if I couldn't say something nice, don't say anything at all.  And I've found very little "nice" to say about this series.  I understand what DC Comics was doing here but I didn't like it.  From 1935 – 1985, the DC Universe was never "rebooted."  Since 1985's Crisis on Infinite Earths, we've had Zero Hour, Final Crisis, Flashpoint, and now Convergence.  Why are they so trigger-happy with that reset button?  I've decided I'm done with DC for a while.  If they bring back Captain Atom or Firestorm, I'll buy them.  But that might not ever happen (however, if the Legends of Tomorrow TV series is a success, Firestorm may be back in a big way, and the door was left open on The Flash for a season 2 Captain Atom appearance).
The Bronze Age Captain Atom appears in the background four times in this issue, although his costume coloring is slightly wrong.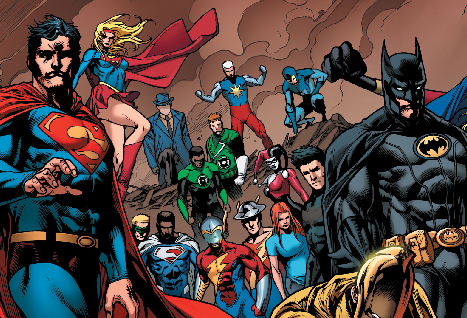 That last panel seems to indicate that the original Charlton heroes do indeed "evolve" into their Multiversity counterparts.  This means we already know their fates and Captain Atom is dead once again.
(All characters and images belong to DC Comics and I am not making any profit off this blog.)